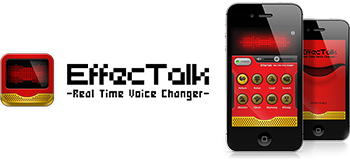 PSOFT MOBILE released its latest app: The real-time voice changer "EffecTalk" for the iPhone and iPod touch.
EffecTalk is a fun and easy to use voice changing app. What makes it special is its ability to change your voice in real-time.
Since there is no time lag between the voice input and output, your voice is changed just as you would expect in any timing and situation for your greater enjoyment. Use EffecTalk as a little foolish, lighthearted vocal effects unit and have fun with it!
Please have a look at the PSOFT MOBILE website for more details.