P SOFTHOUSE Co., Ltd. (location: Sendai city, Miyagi prefecture, Japan; CEO: Keiki HATAKEYAMA) started global sales of the Windows universal app version of "Zen Brush 2", its East Asian ink brush painting app, in the Windows Store.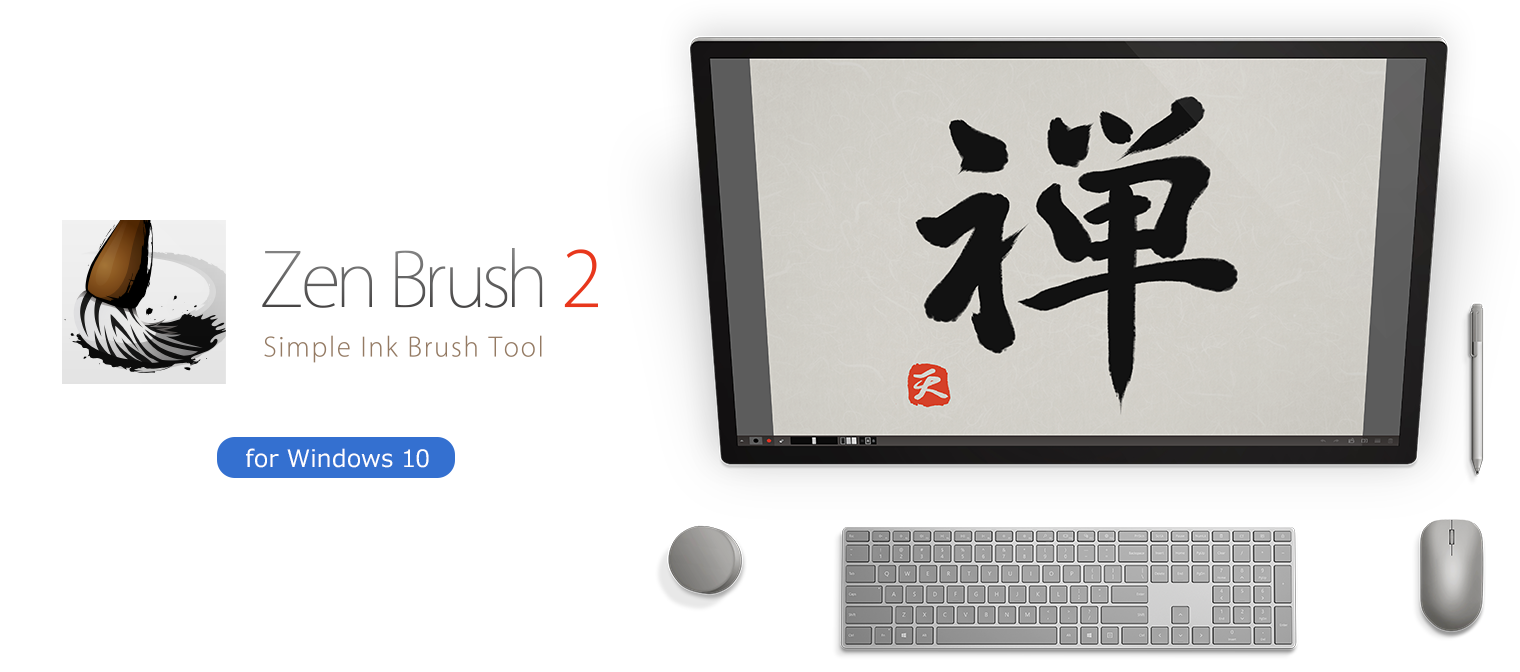 About Zen Brush 2
Zen Brush 2 is a drawing app focused on the strong yet beautiful feel of the East Asian ink brush. It is unique as a realistic ink painting simulation that reproduces the delicate and vivid strokes of an East Asian ink brush. Users can easily enjoy genuine Asian calligraphy and ink wash painting with a simple and intuitive user interface imbued with the Zen spirit. Zen Brush 2 was featured by Apple in the App Store's BEST OF 2015 and has received high praise all over the world.
The Windows universal app version of Zen Brush 2 already supports the Surface Dial and the new Surface Pen with tilt support, providing the feeling of a real ink brush by reflecting the brush's tilt and orientation. It can be enjoyed on various Windows 10 devices, including the all-in-one Surface Studio and the 2-in-1s from the Surface series.
Main Features
■3D Ink Brush Simulation
The app includes a drawing system based on a 3D model of an East Asian ink brush. Strokes change according to the movement of the user's finger or pen, providing a sensation just like a real ink brush for a uniquely varied and deep expressiveness.
■Ink Nijimi and Notan
Users can select from 3 types of ink dispersion (nijimi) and enjoy the complex, three-dimensional expressiveness of ink-wash painting where the ink gradually soaks into washi (Japanese paper). The thickness of the ink (notan) can also be adjusted to reproduce shades ranging from dark, thick ink to light, diluted ink so users can create subtle artwork by combining shadowy depictions and light coatings.
■Abundant Style Templates
Artwork expressiveness is enhanced by choosing from a collection of 92 rich background style templates, including washi (Japanese paper), old paper, patterned paper and many more.
■Support for Surface Dial and Surface Pen
With Surface Dial, users can use Zen Brush features intuitively without needing to touch their keyboard and mouse. Thanks to support for the Surface Pen's pressure sensing and the New Surface Pen's tilt detection, users can enjoy an even more realistic ink brush experience.
Features
92 background style templates.
Simple brush size adjustment with slider.
Simple main tools: ink brush, red brush, eraser brush.
3 levels of ink dispersion (nijimi).
3 levels of ink tone (notan).
Guide lines (9 types).
Undo / redo (5 levels).
Save projects in the app.
Save artwork to image file (formats: JPEG / PNG / Transparent PNG (without background)).
Sharing (transfer data to other supported apps. Example: email).
Adjustable pressure sensitivity (5 levels).
Adjustable tilt sensitivity (5 levels).
* Requires a pen that supports tilt.
Supports Surface Pen (eraser supported).
Supports Surface Dial (undo / redo, brush size adjustment, tool switching (ink brush, red brush, eraser), zoom in / zoom out, style change, brush axis rotation, 90 degrees canvas rotation).
Release Information
Press Kit
https://psoftmobile.net/files/Presskit_ZenBrush2UWP.zip
Contact Information
P SOFTHOUSE Co., Ltd. https://www.psoft.co.jp/en/
Use the following form for product enquiries.
Contact Form https://www.psoft.co.jp/en/contact/