High-quality lines in Blender
PSOFT® Pencil+® 4 Line for Blender is a post-processing effects add-on that adds lines with a hand-drawn look to 3D objects. By using it along with "PSOFT Pencil+ 4 Render App", the high quality lines adopted by many anime productions can easily be used.
Professional
High-quality lines cultivated in the animation industry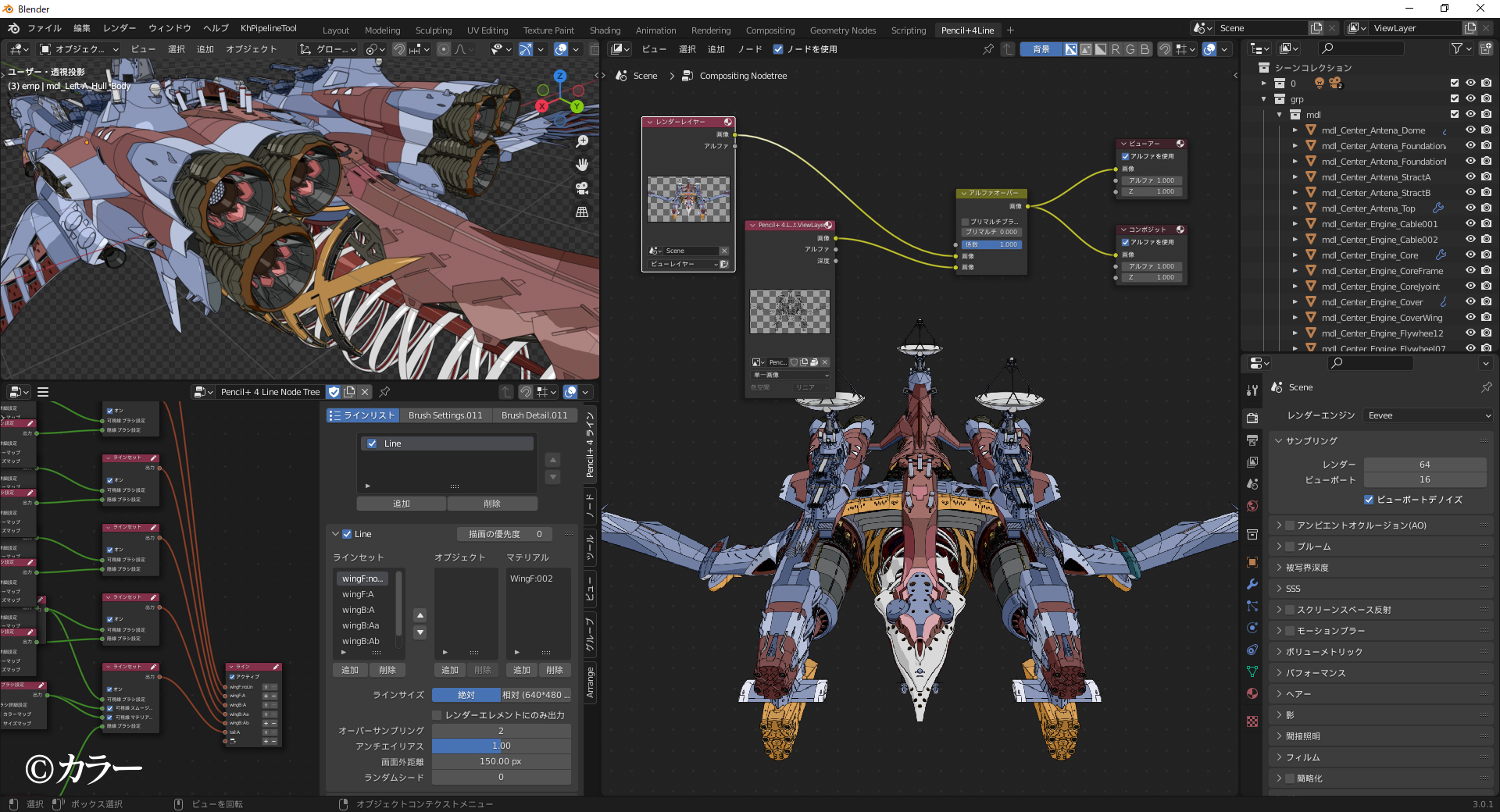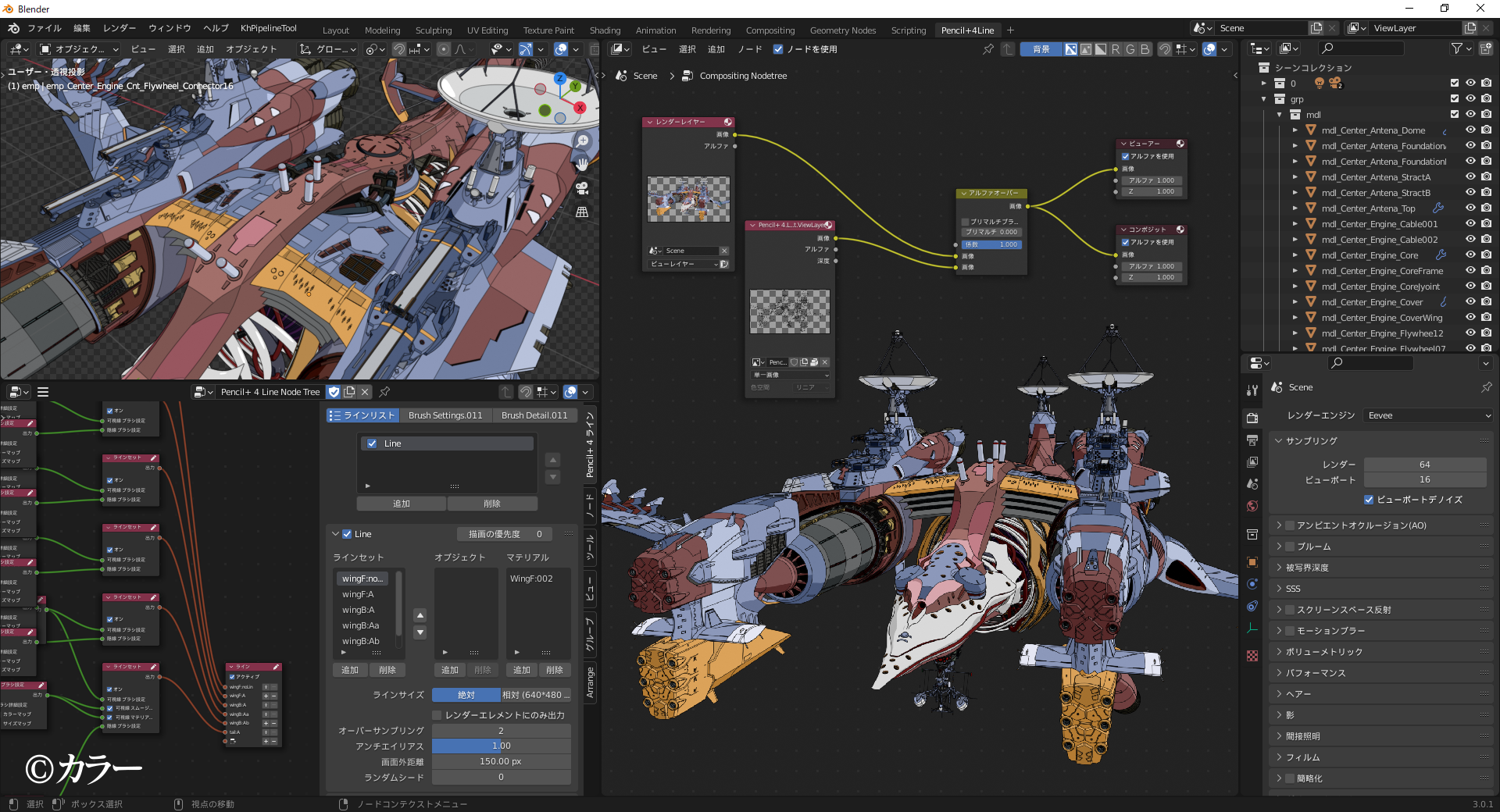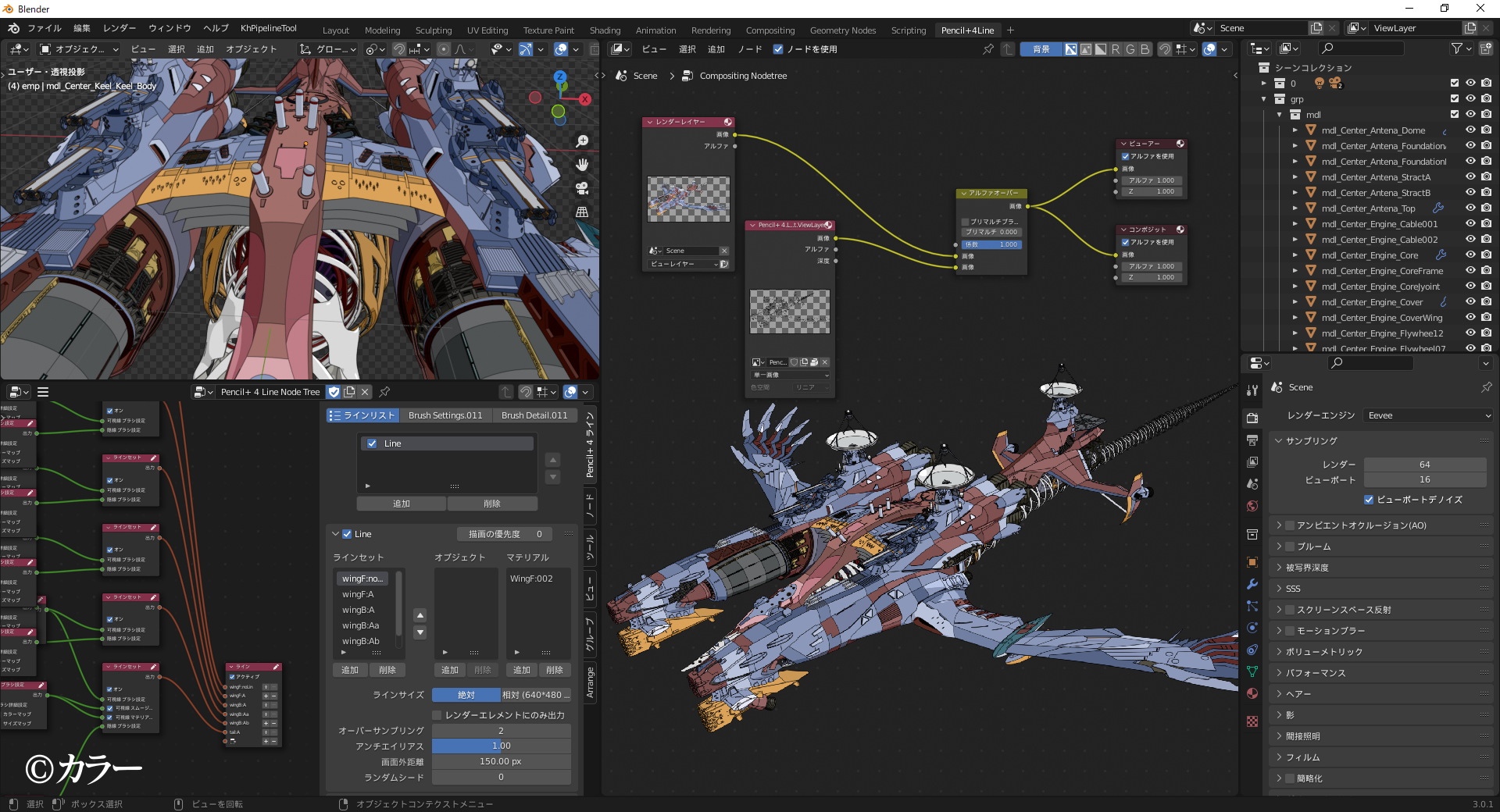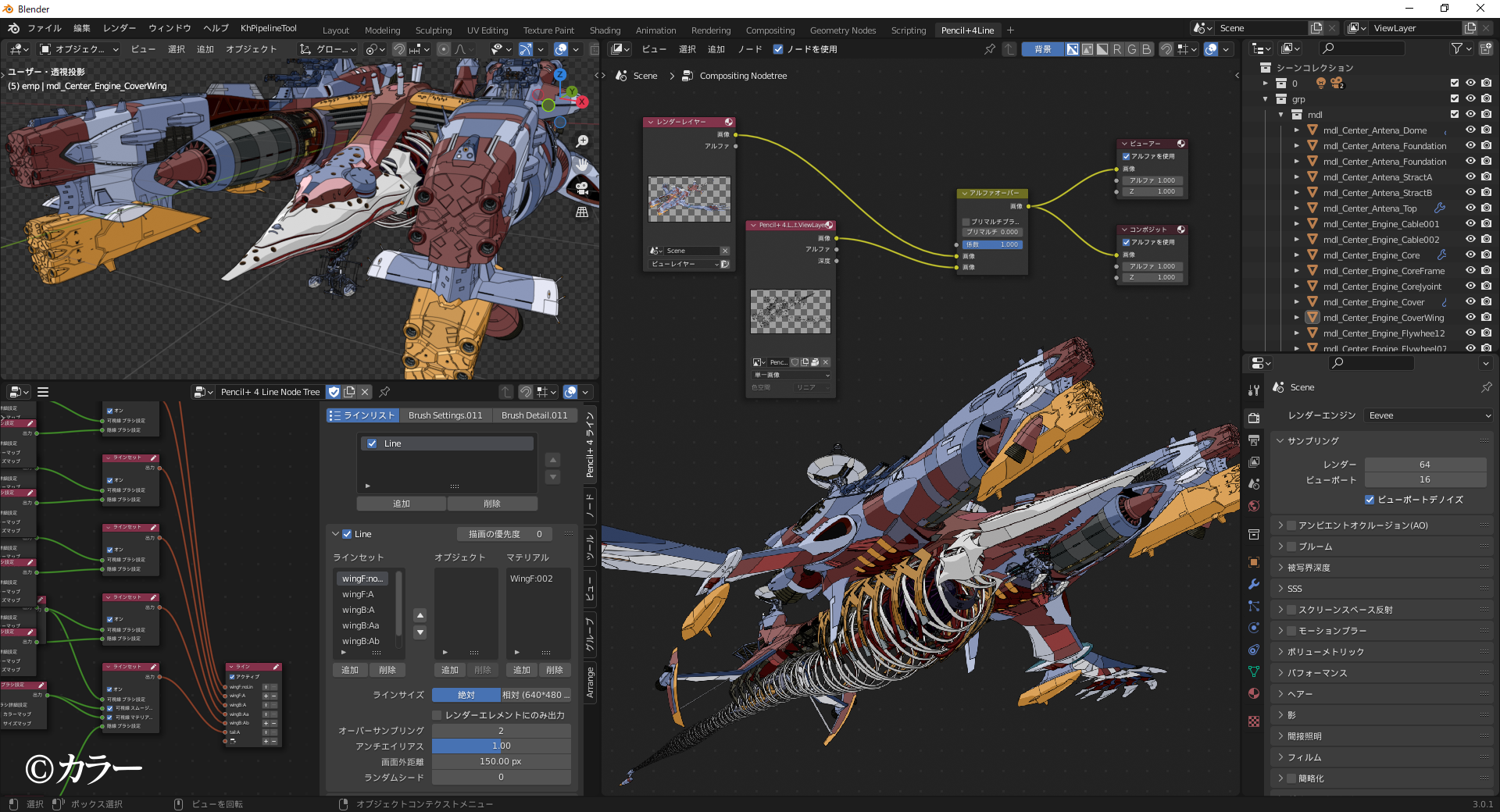 Varied expressions made possible by the
Node Editor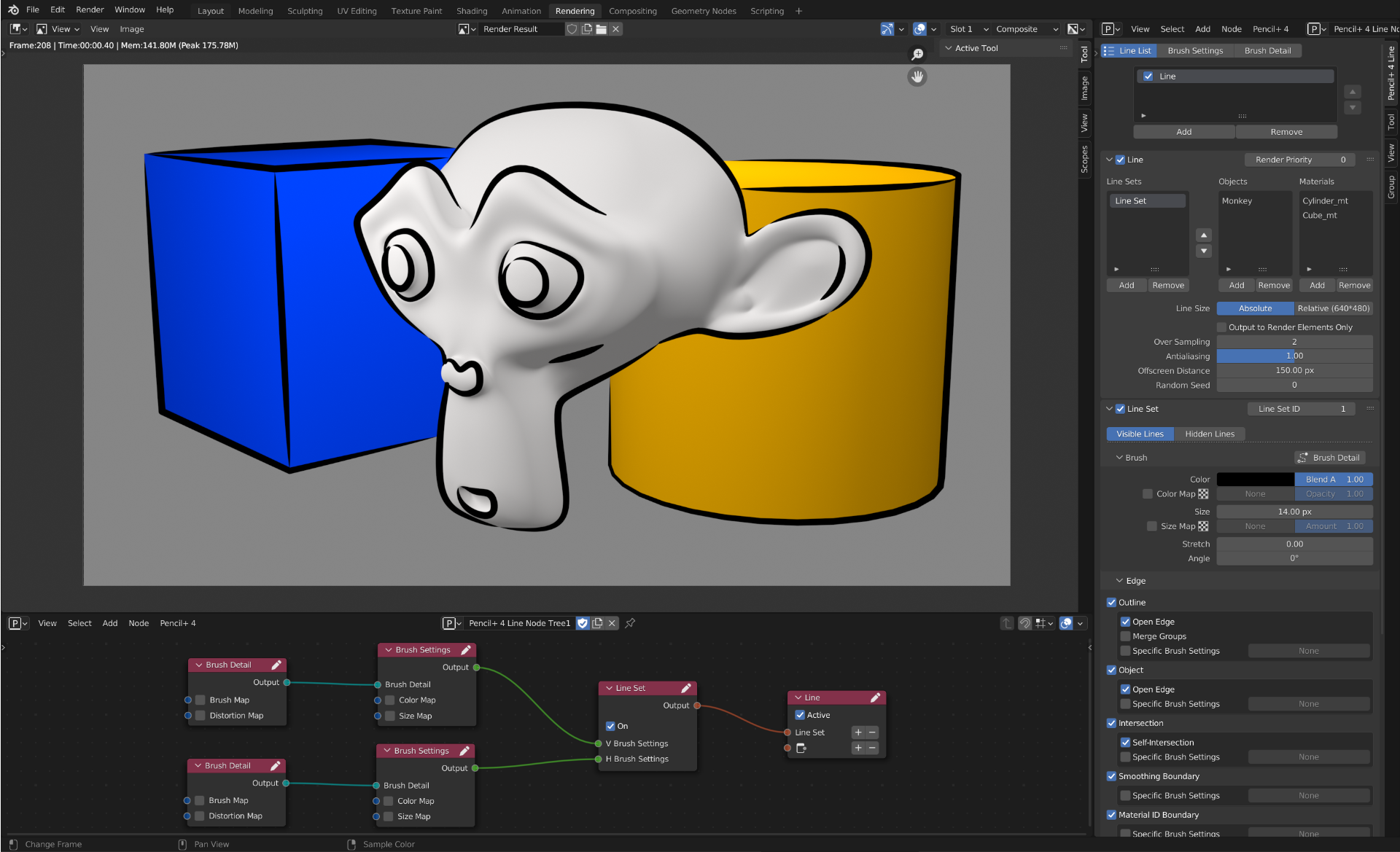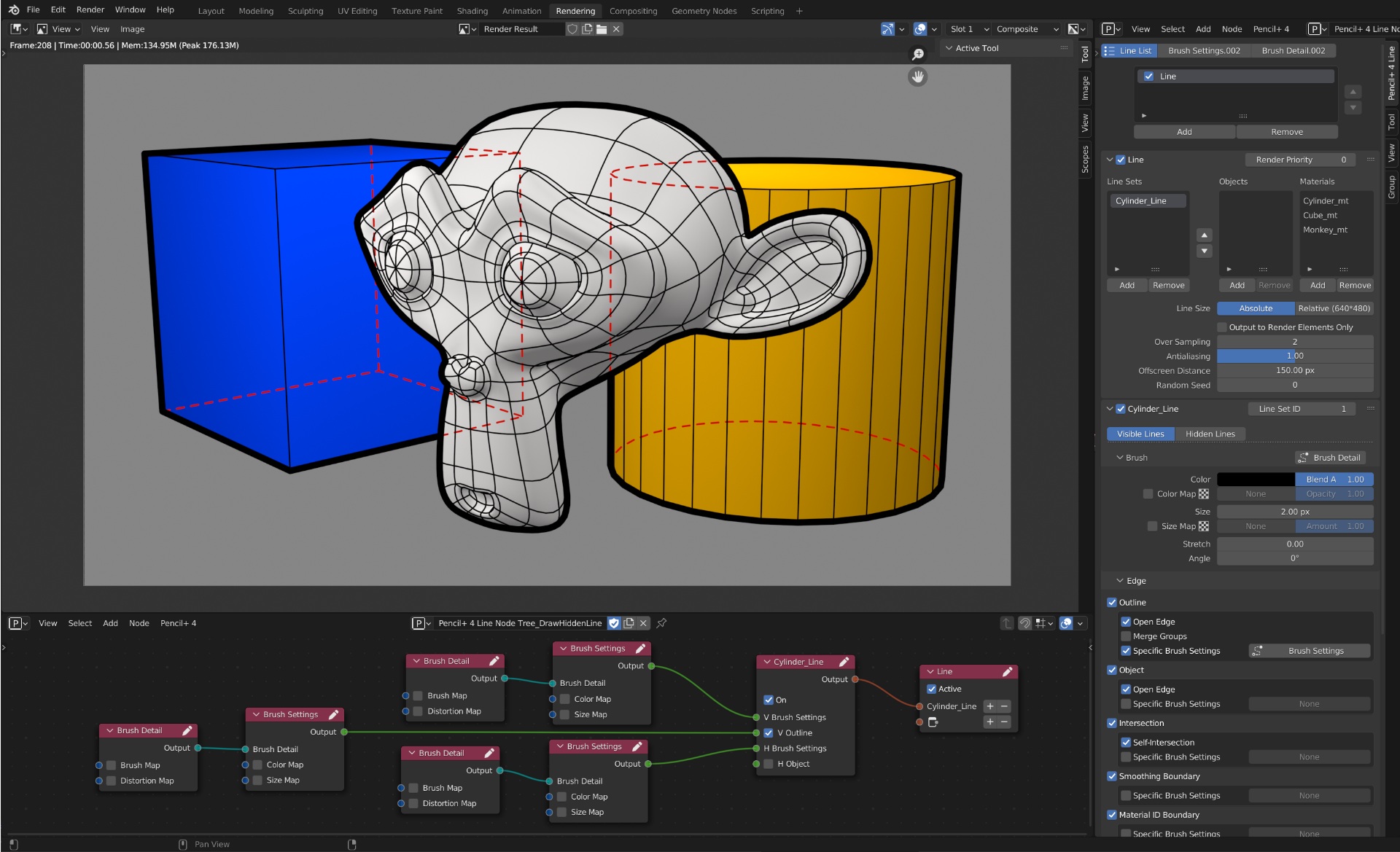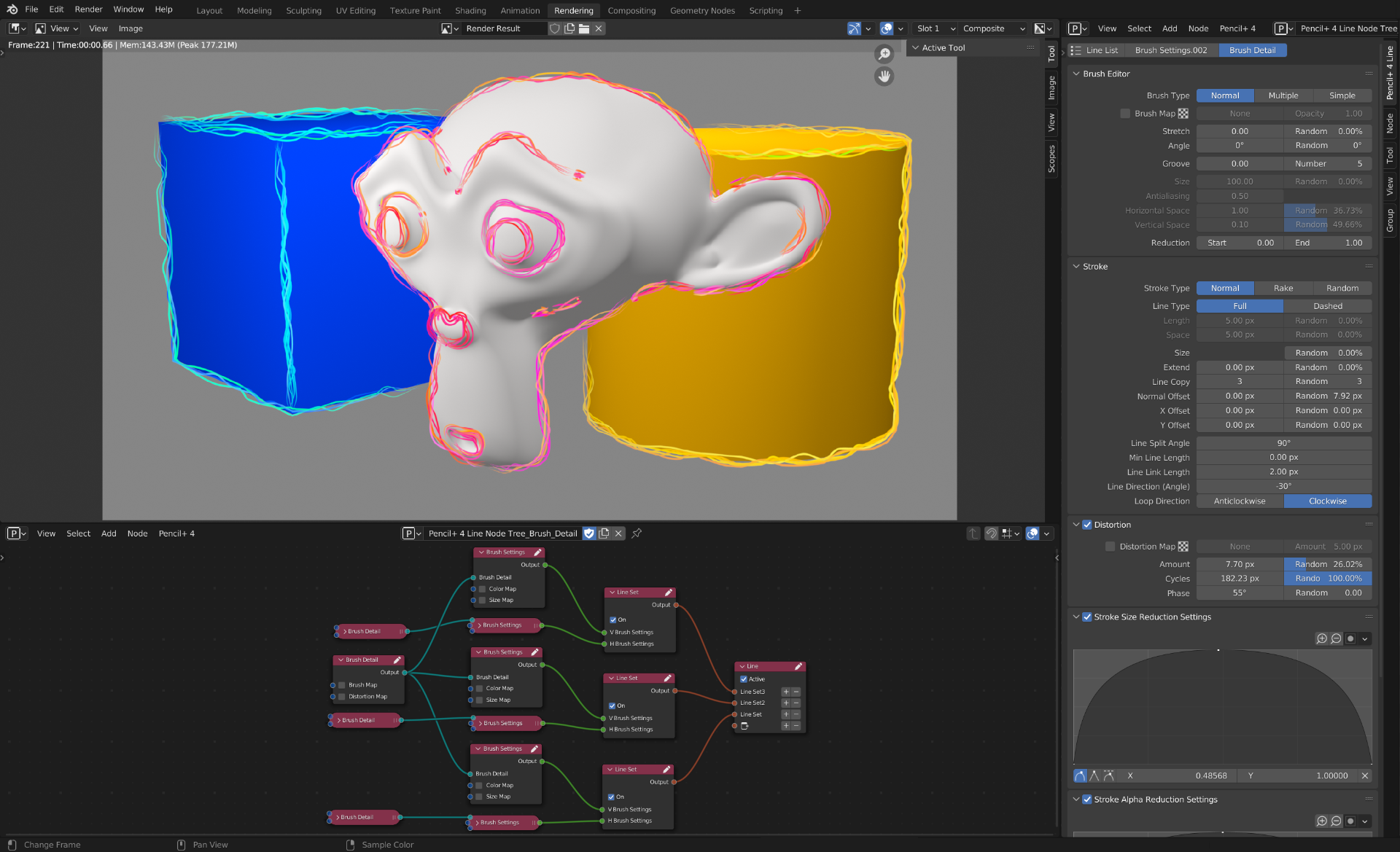 Efficient editing with
Real-time preview in the Viewport
Wide range of expressive lines
Rich settings to match the scene
High-quality lines
Create a wide range of richly expressive lines such as mechanically uniform lines, lines jutting out of objects for a rough sketch look, or lines with ample width modulation like those found in Japanese manga. Handle any scene with detailed settings to specify where to draw lines, such as drawing on objects' mutual intersections, on material boundaries, on hidden lines on the back of objects and more.
Vector File Output
Lines can also be output in EPS/PLD formats.

EPS format is a resolution-independent vector graphics file. It is recommended for visualization purposes in fields such as architecture, manufacturing, product design, web content, and interactive application interfaces.

PLD format is a dedicated data format for editing lines in "Pencil+ 4 Line for After Effects". It allows you to adjust line colors and textures within After Effects.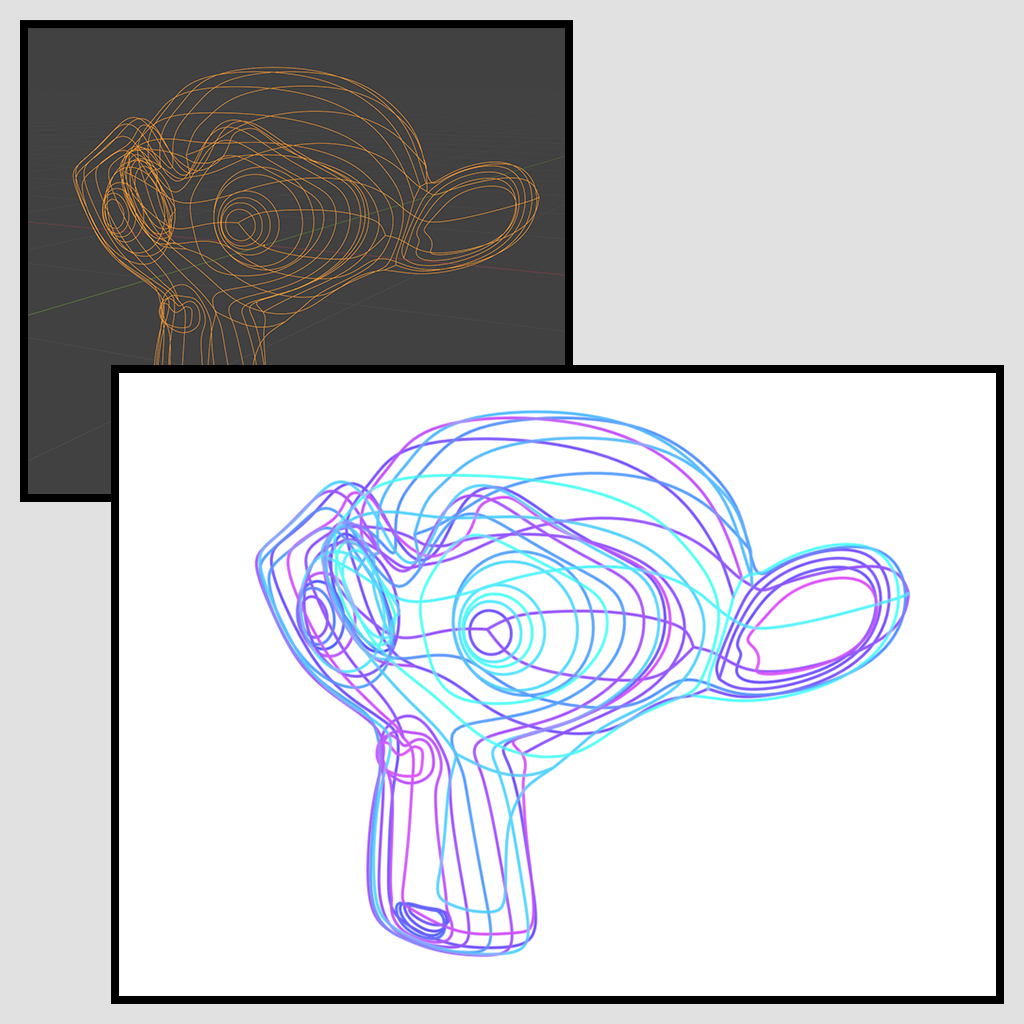 Easily share line settings
Utility Tool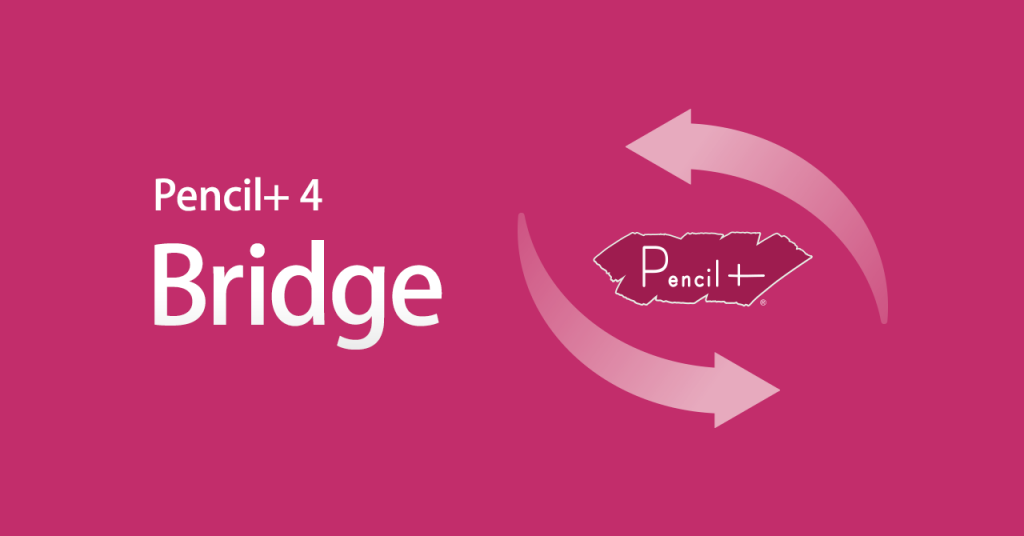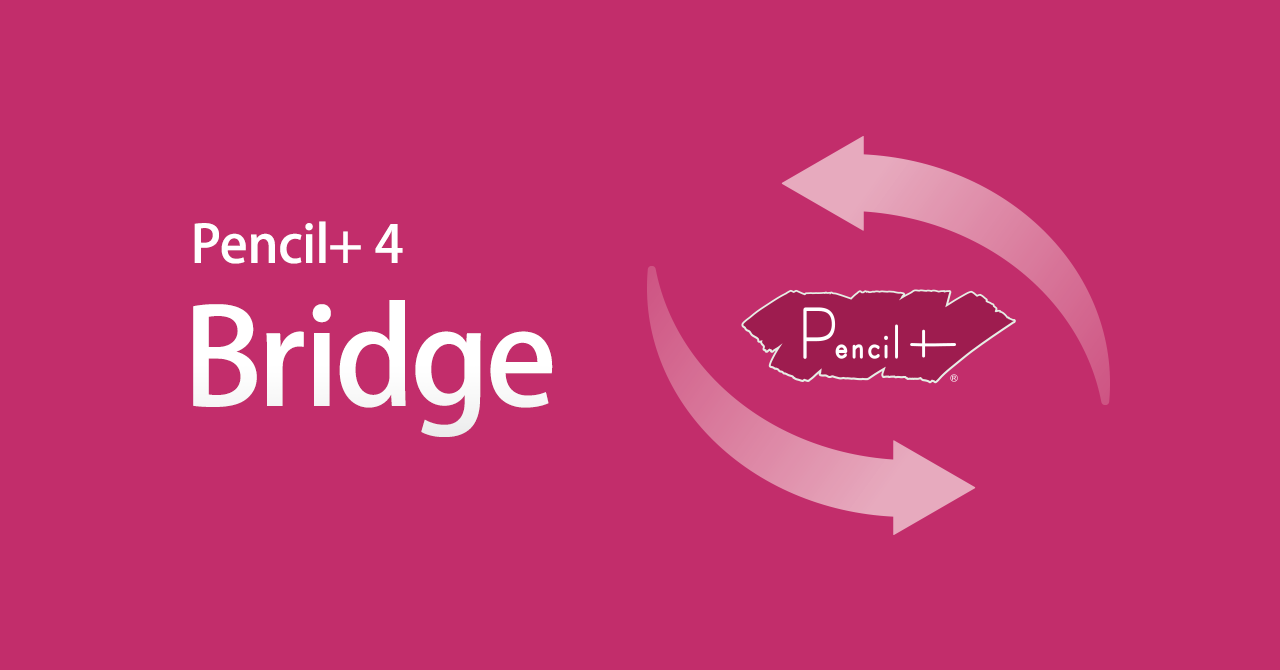 Pencil+ 4 Bridge for Blender
Pencil+ 4 Bridge for Blender is an extension add-on used to transfer Pencil+ 4 Line settings between Blender and 3ds Max, Maya and Unity. The data is managed as a file separate from the scene file, so it can easily be applied to another scene.
*Parameters that are not compatible between various Pencil+ 4 products cannot be included.
*Pencil + 4 Bridge for Pencil+ 4 Line for Blender can only import and export Pencil+ 4 Line settings.
Development Collaboration

We received comments about the development of the plugin from khara, Inc.
Comments by: CGI director / Daisuke Onitsuka
*The comments were made in January 2023 during the Beta version phase.
Why was Pencil+ necessary for Blender?
Onitsuka: Even at the standard level, there are various line drawing functions in Blender, but after various tests, we found that there was nothing that matched the speed and quality of Pencil+.
Also, our company had a lot of past data made with Pencil+ and we needed to reuse that data.
Therefore, we thought that if Pencil+ was available for Blender, it could help not only our company, but people in the whole industry transfer to Blender, so that's how we came to discuss the development of the plugin.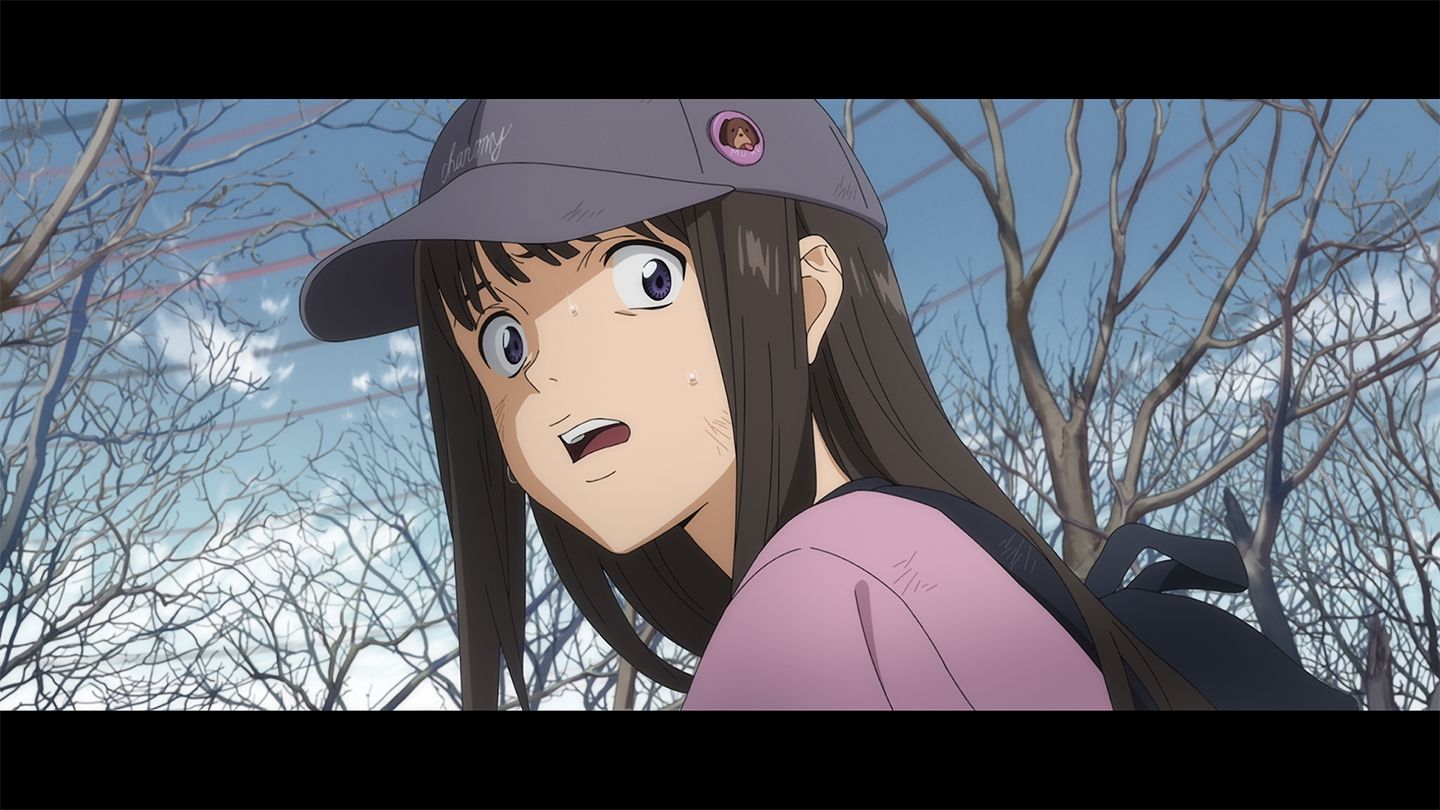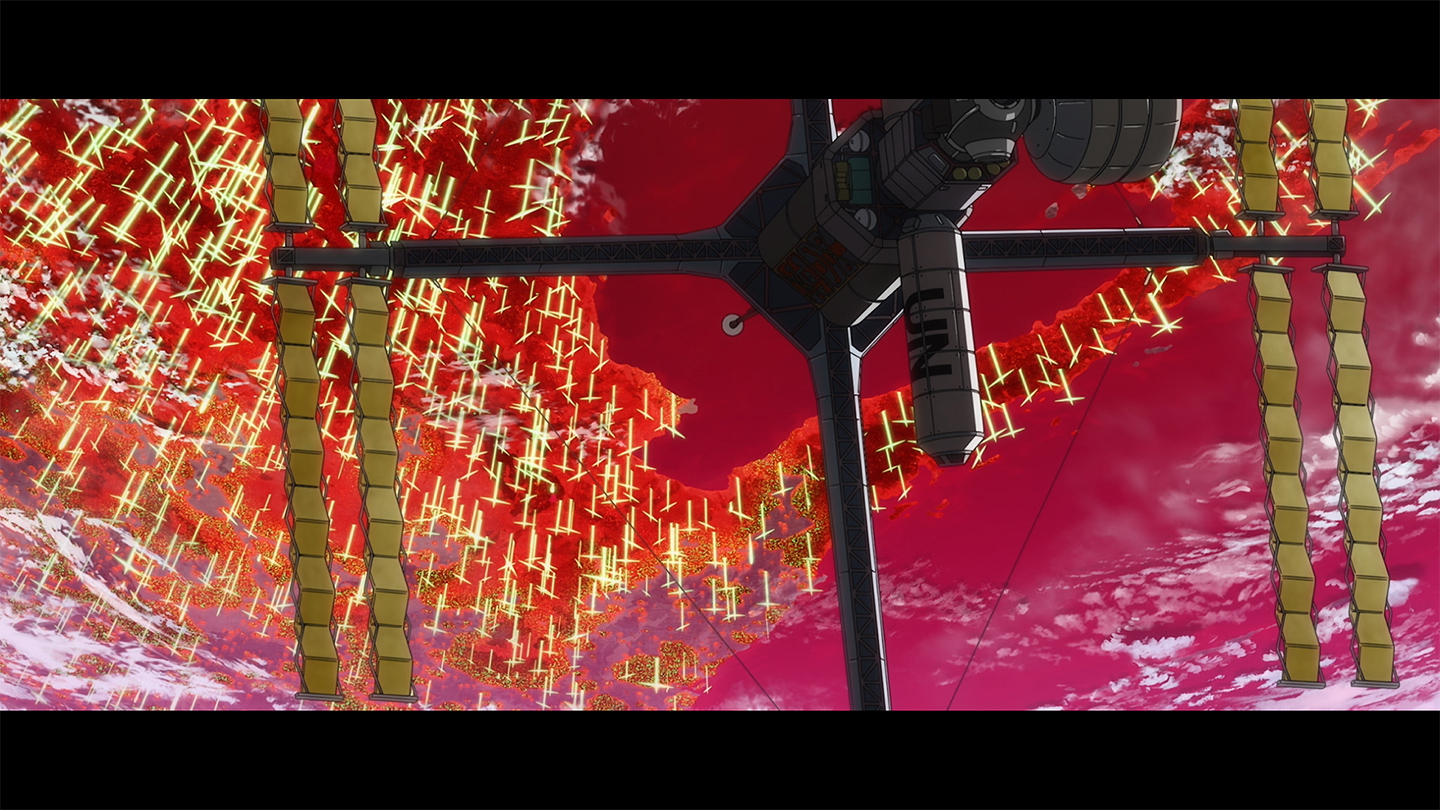 ©khara
"EVANGELION:3.0+1.11 THRICE UPON A TIME" Blu-ray&DVD
Release on March 8, 2023 in Japan
What was your impression after using the plugin?
Onitsuka: Since it became possible to check the line drawing in the Viewport, which was not implemented in the MAX version, we were able to greatly reduce the amount of line settings mistakes. Being able to check line thickness before rendering is extremely useful.
Also, the ability to transfer line settings between MAX, MAYA and Blender using Pencil+ 4 Bridge is very attractive.
The functionality related to line settings available in the MAX version is almost completely implemented, so there is no gap with regards to quality.
Please tell us about your outlook for the future.
Onitsuka: Our company is in the process of making a complete transition to Blender, so productions that will be announced from now on will be created using Blender.
While collaborating on the development of Pencil+ for Blender, we already adopted it for a number of productions, so please look forward to our announcements.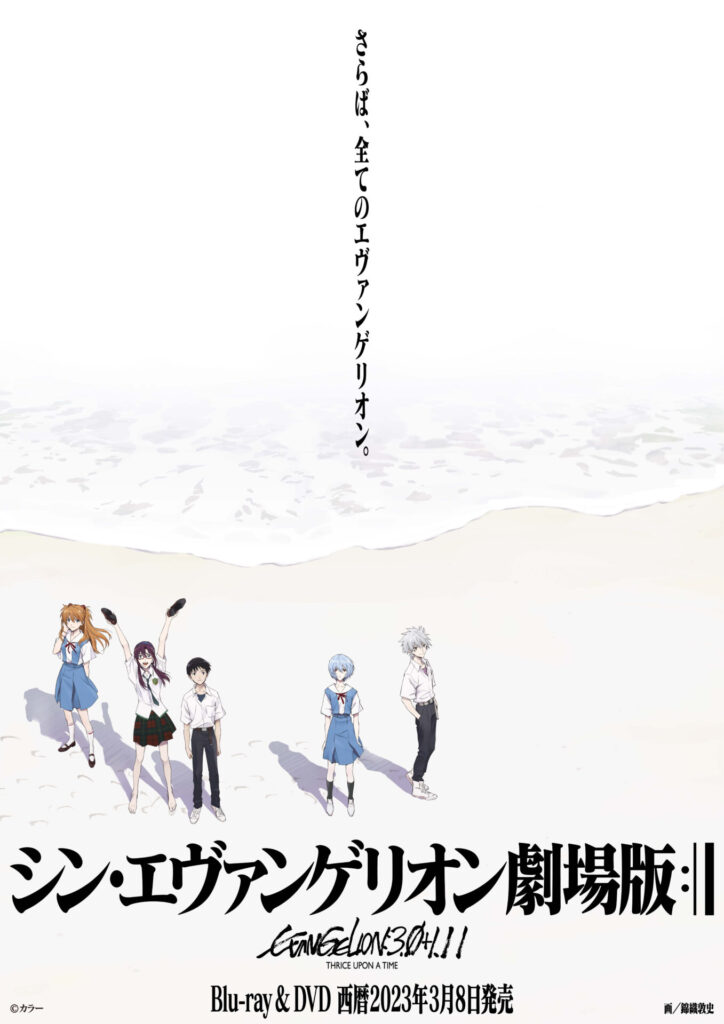 "EVANGELION:3.0+1.11 THRICE UPON A TIME"
Blu-ray&DVD
Release on March 8, 2023 in Japan
©khara
* Pencil+ 4 Line for Blender was used for new bonus footage.
Operating Environment and License
OS: Windows 10 / 11
Host application: Blender 3.0 or later
CPU: x64-based processor
Required software: Pencil+ 4 Render App
* The Blender add-on and Render App use files in an original format to transfer parameters and rendered images between each other.
Pencil+ 4 Line for Blender is free, open-source software based on the GNU General Public License. Pencil+ 4 Render App is required to draw lines.
The add-on is available on GitHub.
Please consult the manual below for the GitHub URL and installation procedure.
Please install the demo version of Pencil+ 4 Render App to try this add-on.