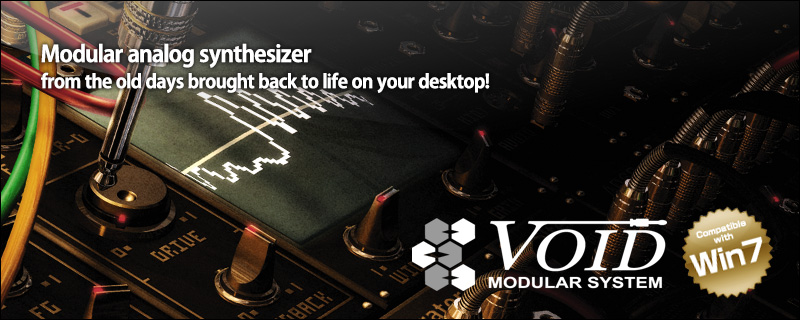 Winner of the Software Product of the Year 2004 Award (Japan)!
A modular analog synthesizer system from the old days brought back to life on your desktop.
VOID Modular System is a high-quality and versatile software synthesizer that can be used as an analog-modeling synthesizer, an effector, a vocoder, a visualizer, etc.
With its wealth of modules, VOID allows creators to free their imagination and give shape to their ideas.

Multipurpose System
VOID Modular System allows you to create various functions with its plentiful features and the ability to freely interconnect its diverse modules.
Void Modular System is a synthesizer, an effector, a monitor... In essence, it is a highly versatile software synthesizer with a broad range of purposes, giving you the ability to create freely.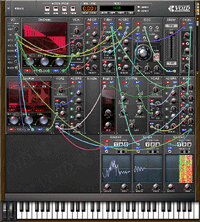 Version 1.6 Modules
(33 modules in 11 categories)
| Category | Modules |
| --- | --- |
| SYSTEM | X 1 |
| GENERATOR | X 8 |
| FILTER | X 3 |
| EFFECT | X 8 |
| SEQUENCER | X 1 |
| MIXER | X 1 |
| VISUAL | X 1 |
| MIDI | X 2 |
| SYNTHESIZER | X 1 |
| DYNAMICS | X 2 |
| MISC | X 5 |
Sound Capture
The standalone version allows you to capture and save your musical performances as WAV files. The only limit to the recording time is the capacity of the media where you wish to save the files. Use the arpeggiator to create original note sequences, apply effects in real-time to the microphone input and save the results as WAV files, etc. Capture your original sound creation performances.
Advanced Simple Patching
A simple interface design makes it easy to arrange and connect modules. Modules are interconnected by simply connecting their input-output terminals using the mouse. Freely decide the disposition of the modules as well as their interconnection.
Unlimited Sound Creation
From simple to complex experimental patching, it's all up to you. Use it simply as an effector or put together a sophisticated synthesizer.
Of course you can use the ready-made presets, but we encourage you to let your imagination loose and create freely.
Works as a plug-in
In addition to being usable as a standalone application, VOID Modular System can also be used as a VST2.0 plug-in (VST is a plug-in standard developed by the German company Steinberg). Usable as both a VST Instrument and a VST Effect, synth patches and effect patches are seamlessly integrated.
*The plug-in version can be loaded by host applications supporting VST2.0. VST is a trademark of Steinberg Media Technologies GmbH