Wide Variety of Modules
VOID Modular System's rich module collection includes the 33 items grouped in 11 categories shown below. The I/O module acts as the central signal flow hub for all the other modules.
Version 1.6 Module
SYSTEM
I/O
GENERATOR
Wav File Oscillator
Draw Oscillator
Oscillator
ADSR Envelope Generator
LFO
SWP (Scratch Wav Player)
TTS (Text to Speak)
VCA
FILTER
Multimode Filter (LP/HP/BP/Notch)
Dynamic Filter
Formant Filter
EFFECT
Distortion / Overdrive
Reverb
Chorus / Franger
Pitch Shifter
Dynamic Pitch Shifter
Vocoder
Delay
LoFi
SEQUENCER
16step Analog Sequencer
MIXER
4in 1out Mixer
VISUAL
Scope (Liner,FFT,Spectrum)
MIDI
VSTPlug
MTV (MIDI to Value)
SYNTHESIZER
SHX Analog Synth
DYNAMICS
Beat Detector
Compressor
MISC
Knob
Slider
BlankPanel Single
BlankPanel Double
BlankPanel Quad
*For details, please see the Modules section.
Base System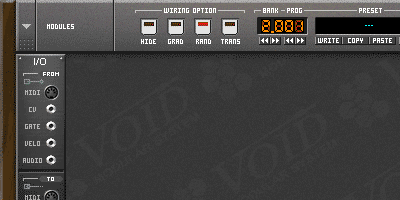 Choose modules from the menu and place them on the rack panel (9U). Modules can be arranged freely according to your preferences. Modules can be quickly moved, copied or deleted through the right-click menu. Since all modifiable parameters are available directly on the panel, there is no need to navigate deep menus to edit them.
Wiring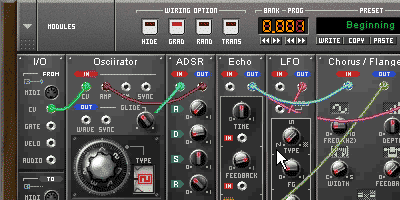 Control signal routing between modules by freely connecting their IN and OUT terminals using virtual patch cords. Cords can also be removed by simply clicking on their IN terminal extremity.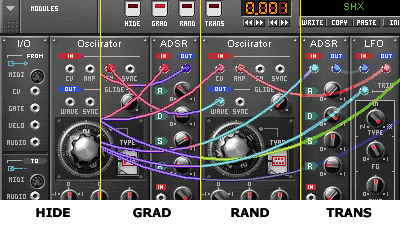 Depending on your needs, you can switch between the following wire color displays: hidden (HIDE), gradation (GRAD), random (RAND) and semitransparent (TRANS).
128 Programs × 10 Banks: A 1280 Patches Memory
A large sound memory is available to save the patches you created. (Bank 0 is reserved for presets).